Il-Cola Tal-Budget Ħasbitu Flixkun koka – Tenniet Li Kienet Qed Tiċċajta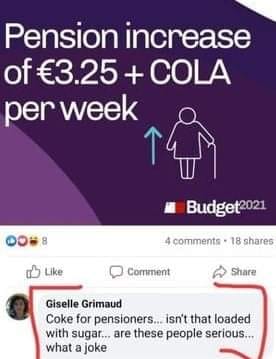 Ġera' sew ritratt fejn jippromovi miżura mill-baġit li tħabbar ilbieraħ fejn jgħid li l-pensjoni żdiedet bi €3.25 fil-ġimgħa flimkien mal-Cola li huwa l-kumpens għall-għoli tal-ħajja.
Imma l-aktar li mexa dan ir-ritratt kien minħabba kumment minn Giselle Grimaud fejn kitbet: "Coke for pensioners… isn't that loaded with sugar… are these people serious… what a joke."
Dlonk bosta bdew jikkummentaw u kien hemm ukoll min saħansitra għajjarha. Ftit sigħat ilu, Grimaud tellgħet tgħid: "for those that don't know me …. IT WAS A BLOODY JOKE … try taking it" (għal min ma jafnix kienet ċajta, pruvawha ħudu ċajta)
Tgħid sirna poplu lesti biex niddieħku b'xulxin? Sirna lesti nattakkaw ħa ntellgħu l-likes u s-simpatija? Intom x'taħsbu dwar dan?